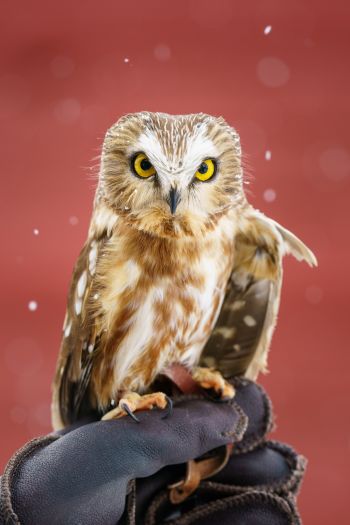 Raptor Info
Species
Northern Saw-Whet Owl (Aegolius acadicus)
Hatch Date: Spring 2020
Sex: Male
Reason Non-Releasable: Fractures in left wing, likely due to a collision.
Species Weight Range: 2.3-5.3 oz (65-151 g)
Joined TRC Team: December 2020
Favorite Enrichment: Trees to camouflage in
Fun Fact: Though one of the smallest owl species found in the Greater Yellowstone Ecosystem, Northern Saw-whet Owls are very capable hunters, sometimes killing animals that outweigh themselves!
Bert came to Teton Raptor Center's rehabilitation clinic in the spring of 2020. He was found on someone's porch in nearby Rexburg, Idaho. He was examined by our team and it was discovered that he had an old injury in his left wing. The injury was most likely sustained due to a collision: we suspect from a window. His injuries were old enough that they had already healed, so he was not a candidate for surgery. After he became an Avian Ambassador, he had a partial wing amputation due to arthritis in the wrist and elbow joints.
Bert the owl is named in tribute to Bert Raynes, who was a dear friend of TRC as well as a prominent birder and naturalist in Jackson Hole. Bert Raynes passed away the morning of January 1st, 2021, and supporters from near and far encouraged TRC to bestow the name 'Bert' on this little cavity-nesting creature.
Photo credit: Cecil Holmes