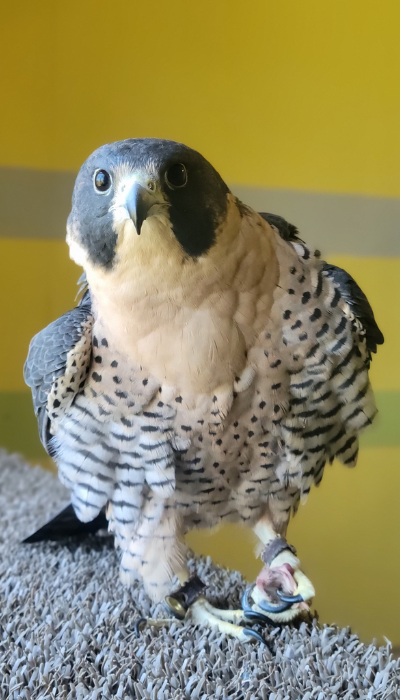 Raptor Info
Species
Peregrine Falcon (Falco peregrinus)
Hatch Date: Spring 2021
Sex: Male
Reason Non-Releasable: Habituated to humans and unable to perform long flights necessary for hunting
Species Weight Range: 1.2-3.5 lbs (530-1600 g)
Favorite Enrichment: Plucking all the feathers off a dead quail
Fun Fact: Peregrine Falcons are the fastest animals in the world, clocking in at speeds over 240 miles per hour when in stoop and can be found on every continent except Antarctica.
Carson was named after the author Rachel Carson, who helped raise awareness about the impact of DDT on raptor populations in her book Silent Spring. Carson joined the team from California and was rehabilitated at the UC Davis Raptor Center after being found in the road suffering a pelvic injury. He was then transferred to the Bird of Prey Health Group and was trained by a master falconer for release. It was determined during this time that he was not able to sustain the long flights necessary to survive in the wild and had become habituated to humans during the rehabilitation process, which made him unable to be released into the wild.
Photo credit: TRC Staff