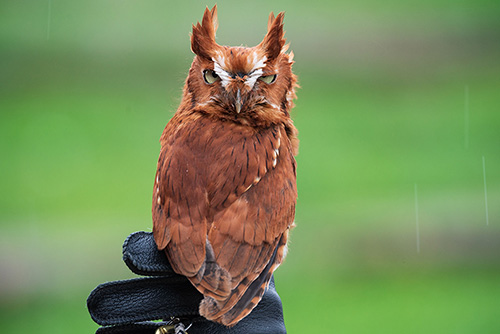 Raptor Info
Species
Eastern Screech Owl (Megascops asio)
Hatch Date: Unknown
Sex: Female
Reason Non-Releasable: Wing trauma, didn't pass flight training
Species Weight Range: 0.27-0.5 lbs (121-244 g)
Joined TRC Team: 2018
Favorite Enrichment: Changing up her enclosure design and features
Fun Fact: Eastern Screech Owls can be gray or rufous in coloring.
Trayne was rescued off the train tracks in Alabama with a wing injury. Though she can fly, her flight was not quite good enough for release. She was transferred from the Alabama Wildlife Center to Teton Raptor Center in 2018. Trayne is a beautiful example of a rufous-phase Eastern Screech Owl.
Photo credit: David Akoubian