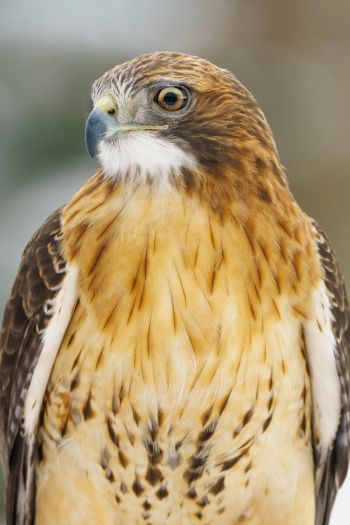 Raptor Info
Species
Red-tailed Hawk (Buteo jamaicensis)
Hatch Date: Spring 2016
Sex: Male
Reason Non-Releasable: Vision loss, right eye
Species Weight Range: 1.5-2.9 lbs (690-1300 g)
Joined TRC Team: September 2017
Favorite Enrichment: Flight training and newspaper to shred
Fun Fact: Red-tailed Hawks can distinguish between venomous and non-venomous snakes (they don't eat the head of a venomous snake).
In an all-too-familiar story, Hardeman was struck by a vehicle in the Spring of 2017 and he lost vision in his right eye. He was treated at the Alabama Wildlife Center – when he failed his live prey testing reality set in that he would not return to the wild and would, therefore, have to find a permanent home as educational ambassador for his species.
Photo Credit: Cecil Holmes