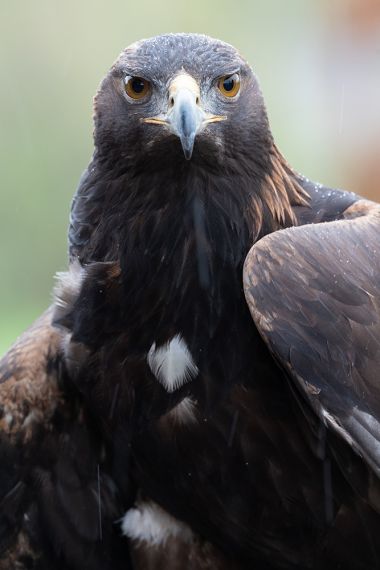 Raptor Info
Species
Golden Eagle (Aquila chrysaetos)
Hatch Date: 2005
Sex: Male
Reason non-releasable: Right wing injury
Species Weight Range: 6.6-13.5 lbs (3000-6125 g)
Joined TRC Team: 2007 (One of TRC's three original raptors)
Favorite Enrichment: Wandering the hallway
Fun fact: Golden Eagles can dive at speeds of up to 185 miles per hour!
Gus, a male Golden Eagle, hatched in 2005. He was recovered from his nest by WY Game and Fish when a rancher noticed that he didn't fledge at the same time as his sibling. Due to either an injury or a birth defect, Gus has a permanent impairment to his right wing and has never been able to fly. In 2007, Gus was transferred to TRC to be an ambassador for his species.
Photo Credit: David Akoubian