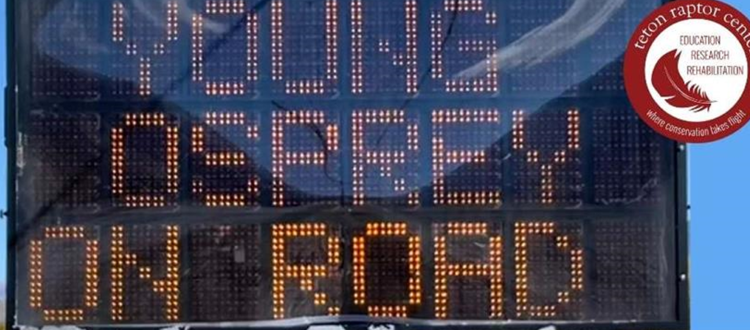 Collaboration for Conservation
It takes a village to achieve the best results for healthy and thriving raptor populations. We are honored to work with so many impactful nonprofit and business partners to help birds of prey.
The solar-powered road sign, pictured above, is an example of one collaborative effort in conjunction with the Jackson Hole Wildlife Foundation to alert drivers to Osprey fledglings that may get too close to the road and are at risk of being hit. Over the summer we also worked with our local power company, Lower Valley Energy (LVE), to modify their work schedule to avoid digging below an active Osprey nest, while there were still nestlings in it. We were so pleased by LVE's immediate responsiveness toward moving to a new location for a few weeks in order to allow the Osprey to fledge.

You may also know that we partner with Hole Food Rescue (HFR) through our Sporting Lead-Free program to x-ray their donated game meat, but did you know that HFR also donates food to us to feed to our smallest charges at TRC?
Each week, Kay, one of TRC's long-term volunteers, stops by HFR to pick up a small bag of vegetables to feed the mice and insects that we raise at TRC, thus diverting it from the landfill! Through HFR, we're helping reduce food waste, save money, and provide excellent nutrition to the mice at TRC.
These are just a few local examples of Teton Raptor Center's collaborative connections to achieve conservation. There are many other partners who are part of keeping wild birds wild and we celebrate all of them.