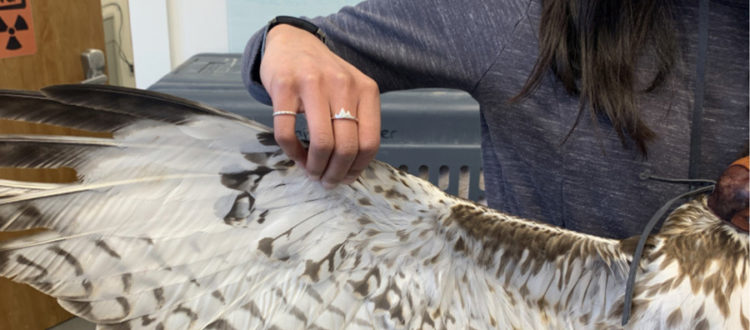 Recent Red-Tailed Hawk Release
Red-tailed Hawk 1.16.22 was recently released in Idaho after being treated at Teton Raptor Center for only a few weeks. The bird was found on the highway after being struck by a car near Shelley, Idaho. It was initially brought to the Idaho Falls Veterinary Emergency Clinic and was transferred to Teton Raptor Center, where it was treated for head trauma suffered from the vehicle collision.
The hawk's treatment started in our Oxygen and Intensive Care Unit where it was hand-fed for several days until it was able to self-feed. Once the bird was able to eat on its own, it was moved to a larger enclosure and then was eventually moved to our Flight Barn to begin flight conditioning and live prey testing. The bird quickly regained its strength in the Flight Barn and was deemed ready to be released back to the wild.
Less than a month after RTHA 1.16.22 was injured, it was successfully released on February 13th with the help of TRC volunteer and Board Member Stew Harvey in eastern Idaho!