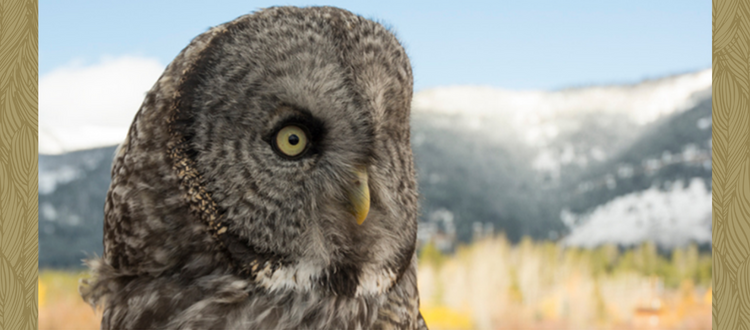 A Tribute to Taiga: TRC's Great Gray Owl Touched All the Pillars of Our Mission
On June 17, 2016, TRC's research team returned to the field to check in on a Great Gray Owl nest they'd been monitoring as part of an ongoing research project on the species. Four great gray chicks were growing fast at the top of a broken off snag. The parents had been feeding them around the clock with small rodents found throughout the dense forest. But upon approach, the team knew something wasn't right. The nest was destroyed, probably by a black bear. One chick was dead, another was missing, a third was ok and up in a tree, and the fourth was injured but alive.
The team debated whether to let nature take its course or to see if the rehab team could help the injured young owl. With the benefits of a full clinic as part of TRC's rehabilitation program, they decided to bring her in for evaluation. Taiga, at just a few weeks old, had a broken wing. Since she was so young and growing quickly, the fracture had already healed but in poor alignment. She would never be able to go back to the wild, but she also didn't require any significant treatment. This is the story of how Taiga became Teton Raptor Center's first Great Gray Owl Ambassador, leading her to a new role: to teach people about her wild counterparts and inspire them to support conservation and protect raptors. 
Since Taiga started out as a study bird in the research program, then was admitted into the rehab clinic, and finally became an Avian Ambassador for the education program, she had the unique journey of being part of all three of Teton Raptor Center's pillars. She was a beautiful example of the synergy of all parts of our mission. Throughout her life as an avian ambassador, Taiga helped us deliver 795 programs to 46,699 participants. At every one, she awed program participants, most of whom had never seen this elusive species up close. 
On January 30th, 2023 Taiga was retrieved from her enclosure for medical treatment as she had developed a parasitic load and had lost her appetite. Raptors can skip meals and be fine, but when they skip too many in a row, it not only impacts their nutrition but also their hydration. During and after treatment, staff noted that she appeared weak. Later that day, she was found dead in her enclosure. Due to concerns over Highly Pathogenic Avian Influenza (HPAI), her body was quickly sent off for testing and necropsy. As of the publication date of this e-news, we know that she was negative for avian influenza, but we do not yet know the cause of death.
The tragic loss of Taiga is a reminder not to take wild or resident birds for granted. Bird populations all over the world are declining for various reasons but there are actions each of us can take to reduce our impact on the natural world to ensure the existence of birds. We can protect vital habitat, keep cats indoors, reduce the use of toxic chemicals, protect birds from striking windows, and watch for birds while we drive, along with many other efforts. All who knew Taiga will agree that she, like all Great Gray Owls, was special. We will miss her presence on the Avian Ambassador team.