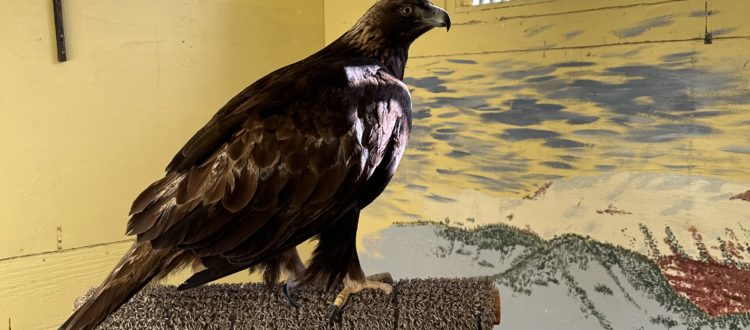 Avian Ambassador Enrichment
Our team would like to take you behind the scenes to see what happens in the Roost with our Avian Ambassadors. Every day the avian ambassadors receive essential care for their needs and welfare, and one way that we ensure the highest level of welfare is through choice-based training and enrichment.
Choice-based training is based around the concept of asking for a specific behavior rather than forcing a behavior. This can be the difference between offering a bird the glove to step up by presenting the glove slightly up and away from their feet and rewarding the bird with a piece of food to increase the likelihood of that behavior happening again, versus pressing the glove against their feet so that they are forced to step up to remove that pressure. By providing choice, the birds are always given the opportunity to say no, and by respecting that no, the birds become more resilient and confident ambassadors. All of our ambassadors are also being trained in husbandry behaviors, from voluntary weighing, to nail trims, and even injections. This reduces the need to grab the birds for medical checks and improves their relationships with their trainers. Since raptors are a naturally solitary species, they do not have the ability to like their trainers but they do have the ability to trust their trainers, and that is pivotal in their ability to be an ambassador for their species. Choice-based training may take longer than other styles of training, but it builds a solid foundation of trust and respect, serving both the trainer and ambassador throughout their time at TRC.
Enrichment provides stimulation and serves to elicit natural responses and behaviors. At TRC we have five different types of enrichment: social, dietary, novel, environmental, and sensory. To create enrichment we examine the ambassador's species, individual history, and any potential injury or safety concerns. As our ambassadors will most likely spend 10-40% of their time participating in educational programs, enrichment provides additional stimulation and helps build their confidence. Making enrichment also challenges staff and volunteers to be creative! They will utilize a variety of objects from sticks to provide opportunities for nest building to newspaper in boxes to provide opportunities for shredding.
Watch Hardeman, our male Red-tailed Hawk, interacting with novel enrichment