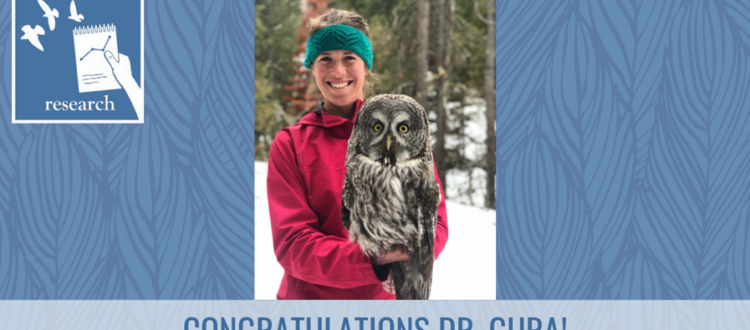 Celebrating Dr. Katherine Gura
Dr. Katherine Gura holds a Great Gray Owl as part of her research. Photo Credit: TRC Staff.
We are SO excited to share a momentous occasion for one of our team members!  Join us in celebrating Dr. Katherine Gura, who has successfully defended her PhD dissertation at the University of Wyoming's Ecology Program!  Having worked on TRC's Great Gray Owl project since its inception 10 years ago, Katherine continued and grew the project for her PhD research at the Wyoming Cooperative Fish and Wildlife Research Unit under the direction of Dr. Anna Chalfoun. Katherine is now among the world's top owl experts and she continues to display an amazing dedication to ecology, conservation, and science. Her graduate work included understanding habitat use and needs of Great Gray Owls and developing novel methods to determine how snow conditions impact owl movements. We are excited that Dr. Gura will soon be rejoining the research team at Teton Raptor Center to expand on our collective work to better understand raptors and achieve conservation!